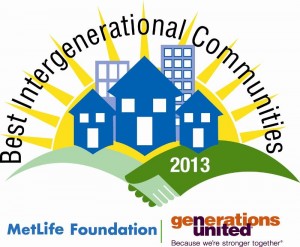 Drum Roll Please:
MetLife Foundation & Generations United Announce 2013 Best Intergenerational Communities
They're places that folks of all ages proudly call home because they recognize the benefits of intergenerational programs, practice, policies and services. Please join us in applauding the recipients of the 2013 MetLife Foundation/Generations United Best Intergenerational Communities Award: Dunedin, Fla; Montgomery County, Md.; Itta Bena, Miss.; and Westchester County, NY.
Westchester County, NY DESIGNATED ONE OF AMERICA'S BEST INTERGENERATIONAL COMMUNITIES
Awards ceremony will take place in Washington, DC on March 21.
Westchester County, NY – MetLife Foundation and Generations United proudly announced today . Westchester County, NY has been selected to receive one of four MetLife Foundation/Generations United America's Best Intergenerational Communities Awards. The awards are designed to heighten awareness of the importance intergenerational solidarity plays in building strong, supportive communities.
"We congratulate Westchester County, NY for earning this designation. It takes a great deal of effort and forward thinking to create a community where members of every generation want to live," notes Donna Butts, executive director of Generations United. Westchester County, NY has worked to ensure its residents enjoy a vibrant, meaningful place to live, are treated with respect and caring, and have ample opportunity to work together for the betterment of all."
"MetLife Foundation understands the value of programs that encourage generations to work together for the benefit of the entire community," explained Dennis White, president and chief executive officer, MetLife Foundation. "Communities that care for and engage all members – regardless of age – deepen bonds between the generations and set an important example for other communities to follow. We applaud the four communities selected to receive the 2013 Best Intergenerational Communities Award."
The other award recipients are the communities of: Florida; Montgomery County, Maryland; and Itta Bena, Mississippi; Two other communities were named finalists: Chanute, Kansas and Proctor, Minnesota.
A blue-ribbon panel of judges selected the winning entries from among a host of applicants from across the country. Robert Blancato, former executive director of the White House Conference on Aging and a partner in Matz, Blancato & Associates, served as a judge in the selection process. Blancato, who is also a strategic advisor for Generations United noted, "It is said you can live anywhere, but that does not make it a livable community. These awards signify that a critical component of a livable community is one that fosters an environment where generations live and work together. "
Fellow judge Pam Smith, Director of Aging & Independence Services for the County of San Diego, added, "The MetLife Foundation/Generations United awards go to four remarkable and robust localities who demonstrate every day that intergenerational collaboration helps sustain and extend the quality of community life." San Diego County was a recipient of one of the inaugural MetLife Foundation/Generations United Best Intergenerational Communities Awards last year.
Presentation of this year's awards will take place March 21 at the Cannon House Building, Room 122 on Capitol Hill in Washington, DC. The Best Intergenerational Communities awards program was made possible with a grant from MetLife Foundation.
About the MetLife Foundation: MetLife Foundation was established in 1976 to continue MetLife's longstanding tradition of corporate contributions and community involvement. The Foundation is committed to building a secure future for individuals and communities worldwide. Through programs focusing on empowering older adults, preparing young people and building livable communities, MetLife Foundation increases access and opportunities for people of all ages. Since it was established, MetLife Foundation has provided more than $530 million in grants to nonprofit organizations addressing issues that have a positive impact in their communities. For more information visit www.metlife.org
About Generations United: Formed in 1986, Generations United is the national membership organization focused solely on improving the lives of children, youth, and older people through intergenerational strategies, programs, and public policies. Generations United serves as a resource for educating policymakers and the public about the economic, social, and personal imperatives of intergenerational cooperation. For more information, visit gu.org.