The HELEN ANDRUS BENEDICT FOUNDATION was created in 1997 in memory of John E. Andrus and enhances the Andrus family's longstanding commitment to Westchester County, New York. The Benedict Foundation is committed to creating good places for people to grow older while maintaining the maximum possible levels of independence.
The Benedict Foundation is focused on creating aging-friendly neighborhoods and actively engaging older people in their communities. Grant making is targeted primarily to non profits in Westchester County, New York, with special attention to the City of Yonkers and the town of Hastings.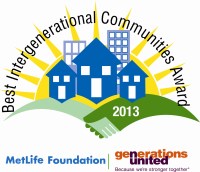 The Helen Andrus Benedict Foundation views older people as assets to their communities, an essentially untapped resource of time, talent, and experience with potential to benefit neighbors and neighborhoods. To strengthen Westchester neighborhoods and communities, the Benedict Foundation supports programs and strategies that foster across-the-generations cooperation.
To help build a sense of community among its grantees and to encourage collaboration, several times a year the Foundation gathers grantees for educational seminars highlighting nationally recognized cutting edge programs and emerging issues.
Since November, 2000 when the Foundation approved its current grant making strategy, more than $11 million in grants has been awarded to nonprofit organizations in Westchester County New York.